Arundhati Roy drops in …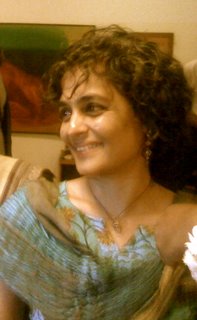 She was scheduled to deliver the Eqbal Ahmad Memorial Lecture in Lahore, along with Eqbal's close friend, Noam Chomsky. The event got postponed because of some reason or the other and AR decided, on a day's notice, when requested by Women's Action Forum, to utilize her visa and fly over to take part in WAF's event at the Karachi Press Club: 
Women Reclaiming Public Spaces
. 
While this topic has gained more prominence in the face of the physical Taliban onslaught in our villages upcountry, the space has certainly been shrinking over the years, since the even more dangerous onslaught in the cities. of the creeping fundamentalist mindset. This warped system has been busy scoring victories over the brainless since Soddies, Farhat Hashmi, Zia, and his spiritual son, Nawaz Sharif have been helping it along, with the help of some sections of our
shahaadat
-seeking javaans.
Arundhati, of course, was here to talk about the more broad- based scenario and her experiences in India where the Hindu Taliban (aka RSS) are trying similar tactics, as the recent anti-women incidents in Bangalore have shown. She is, of course more fluent in English than in Urdu, a language that she picked up in Delhi when she moved there from the South. In fact, last night she told us that the only sentence in Urdu that she knew to speak, when she arrived in Delhi, was a strange line from a story she'd learnt in school:
Jab sübah aankh khülee to daykha kütyaa maree pa∂ee haé.
I suspect she
 could not have used that in her conversations too often.
It was, therefore, a delight to hear when she prefaced her talk today, by
describing
a TV interview she had seen, that she has improved her vocabulary considerably. 
Sabeen
has put up the
full video
of AR's talk. (Were
YOU
there?)
Arundhati - as anyone who has met her will testify - combines simplicity, warmth, grace, charm, vivaciousness, radiance, with an intellect and passionate activism that is extremely rare.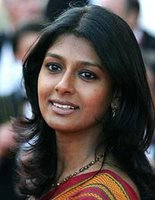 For some reason the only other image that came to more than one mind last night, during discussions over dinner, was that of Nandita Das.
Everyone knows AR for her novel,
The God of Small Things
, later political writings, her fiery speeches, and the espousing of causes that fight social injustices. But many may not be aware that ND is not just an actor (and Director of
Firaaq
), She, too, is a strong feminist and activist, as I learnt when she gave me her short public service clips. Take a
look
at
Car Park
,
Jalebi
, and
Roll Call
- three very short videos (around a minute each!) on Education.  I found them extremely moving.
PS: 8th May was also our 39th Wedding Anniversary - so we couldn't have asked for a better gift!
Labels: Activism, Bloggers, Events, Literature, Media, News, Pakistan, People, Personal, Poetry, Politics, Religion, Urdu