An Important Survey
Romulus and Remus are said to be the twin sons of the Vestal Virgin, fathered by Mars, the god of war. Romulus slew Remus over a dispute about which one of the two brothers had the support of the local deities to rule the new city-state and gave it his name. 

As part of our Rewriting History Project, a modernized version of the legend is being considered for inclusion in the Pak Studies Textbooks being prepared for 2010 and, in the interests of our commitment to flirtation with Democracy, a survey is being conducted by the Ministry of Indoctrination Education. Your participation will be appreciated.
You are requested to respond to all 3 items from Section A and at least 1 from Section B.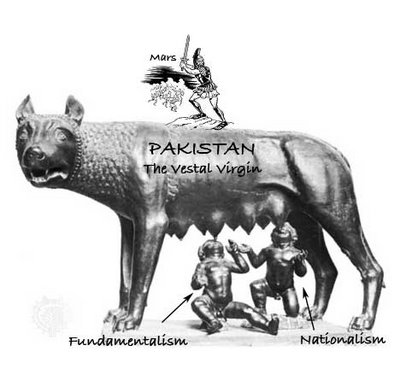 Section A

1. In the above image, which one is Romulus?
2. Name the local deities who, you think, supported Romulus
3. Who do you think Mars refers to?
Section B 
1. Do you think Mars fathered the children against the Vestal Virgin's will?
2. Was the Vestal Virgin, herself, immaculately conceived?