A treat for Karachiites & visitors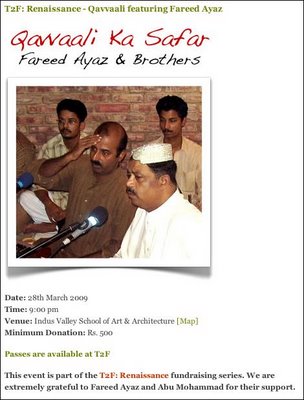 They have many fans in Pakistan and overseas. They take qavvaali festivals by storm everywhere they go - and, boy,
do
they go everywhere! (See the embedded video at the end of this post.) Yet, it's surprising how many people in their own country have not yet been exposed to this amazing troupé. The
Qavvaali Ka Safar
concert on 28th March provides yet another opportunity for the uninitiated to change this state.
All of us qavvaali lovers in Pakistan have, in our collections, loads of Sabri Brothers and tons of Nusrat Fateh Ali Khan ... but of the
gharana
that boasts of being the direct descendants of Saamat bin Ibrahim, the ace
shaagird
of Amir Khusrau and the head of the
Qavvaal Bachchaas
that Khusrau trained in this genre, we have precious little. 
One possible reason, I am sure, is the lack of audio and video recordings released by this group
locally
, something that I intend to help rectify over the course of the year (specially through the release of rare private recordings of their father, the incomparable
Munshi Raziuddin
). I also hope to convince the families of Munshi Ji's illustrious cousins,
Manzoor Niazi
sahab and
Bahauddin
sahab to let me include some of their recordings for the planned archives and special releases. Both these cousins' parties, too, being part of the same heritage, shared a fair amount of the repertoire but delivered the individual items with their own distinct flavours and each had a title or two that became associated with them forever: Manzoor Niazi's
Naseema Jaanibé Bat'haa
and Bahauddin's
Kaesa Naach Nachaaya
come immediately to mind. Both of these are available on the Citibank-sponsored set that is now a collector's item due, in part, to the wonderful notes that accompanied it. The audios were pirated (naturally!) and are available easily in most
seedy
CD stores. 
While Fareed Ayaz, his brothers - the amazing Abu Mohammad, among them - and the generation coming up 
(keep your ears open for Moiz and Hamza!), continue to preserve the tradition of rendering qavvaali in its purest classical form - they are at their best in

samaa

environments - those who have heard them in concerts know that their range extends way beyond that. Because their musical heritage includes, and is greatly influenced by, the famed ustaad Taan Ras Khan sahab, court musician to Bahadur Shah Zafar, they tackle

shudhh

classical raags - be it

dhrupad

ang or the more common 

khayaal

form - with as much ease as they do pieces from today's popular repertoire.
Once in a while they have been known to include qavvaalis popularized by some of their well-known peers, although this happens

only

when the audience requests it - which is, thankfully, rare. C'mon, concert attendees … you've come to hear what

these

guys do best, so listen to

their

specialities. (In any case, how

can

one listen to a Sabri cover, however well sung, without Ghulam Farid's booming "Alllaaaaaah", or watch it without the

silent qavvaali

bit that only he could get away with by accompanying it with a twinkle in his eyes and a mischievous smile?)
They delight their fans with the works of Rumi, Hafiz, Khusrau, Bulley Shah, Kabir, and the later poets - such as Jigar Muradabadi (whose
Saraapa
never fails to entrance the listeners, even non-believers, with the sheer beauty of its words). They glide from Arabi to Farsi, Hindi, Poorbi, Punjabi, Seraiki, and Urdu smoothly. They sing modern foot-tapping qavvaalis and the traditional
haal
-inducing ones, but also inject the
khaanqaahi
slow, langurous melodies (such as
Har Shab Manam Fataadah
) into the performance, some - like
Teree Yaad Hae Mann Kaa Chaen, Piyaa
- transporting lovers into another time and place. But it is their
sazeenaa
,
bahlaava
,
payvand-kaari
, and the weaving of
sargams
and
taans
seamlessly into their performances that I enjoy most of all.
If you have not heard the full range of this troupé's capabilities, come and be converted. Bring others along, too, not just for a very enjoyable evening but one which will enrich your knowledge as Fareed Ayaz, Abu Mohammad, and others -
(expect the unexpected!)
- trace the development and growth of this all-encompassing genre. If you are already a fan, we'll see you there, anyway, but do bring friends to introduce them to this bunch of wonder-weavers and the genre ...

and

to financially support T2F in its shift to the new, expanded premises. That's very important, too.
(Thank you, Fareed & Abu, and everyone else in the party, for donating the proceeds and supporting a space that has helped enliven many of our evenings).
Here's a real first!