The Sunday Sermon: Free Will
The first thing in the morning that popped up on my computer this morning was an email with a link to the Quinn vs Dawkins
mini-debate
. Although it is obvious that I am - in most matters - on Dawkins's side of the divide, I cannot deny that he has more or less earned the wrath of the believers. And he enjoys it! A quick look at his [in]famous (but hilarious, as the audience's reaction testifies)
response
to fellow-atheist Tyson -
at an all-Atheist conference
- is proof enough. (Btw, RD - who has been caricatured as a warrior may not accept this but he has taken a bit of Tyson's advice to heart for I have begun to notice a great deal of mellowness in his tone in many recent debates, including this one. On the other hand it could just be age :-)
While a couple of Quinn's statements have a degree of validity and need to be thought about and discussed, his assertion (and one that is usual for believers to bring up) that atheism has been as responsible for deaths as religion in this century (citing Stalin, as one example) is - imnsho - basically flawed, if not intentionally deceitful. Of course, I have heard this argument from so many people who, otherwise, seemed to follow logic - at least one of them is a lawyer (and, so, one whom I hope never use as mine).
I am amazed that they cannot see the obvious difference between an atheist (or, in the case of the Sri Lankan tragedy, a bunch of atheists) killing for any cause — personal, political or otherwise, but NOT in the name of Atheism — and those who kill in a holy war under divine injunctions emanating from their deity via religious books. If you listen carefully, Quinn actually shows up this [manipulative?] approach in a sentence where he compares killings in the name of religion to killing by atheists. Hell, that's not an equation!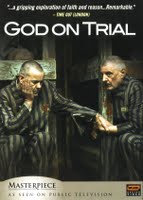 What specifically struck me, and which is the reason behind this post, was Quinn's speaking of his subscribing to the concept of Free Will - something that Dawkins thinks is of no great importance - as one of the bases for his beliefs. Whether or not it is an important issue in your life, is for you to decide - it is a matter that is even at the root of many internal debates among the religious.
The 2008 film,
God on Trial
, is one brilliant example of such a discourse, based on the events of the Holocaust. The film is unlikely to get a public viewing in Pakistan (and I am glad - for we could do without another riot) but it
is
available for purchase, for watching in private, via the Internet. You may even download it via torrent sites, if you are so inclined. Take a look at
one brief scene
that shook some of us - specially a young man with three tiny sons - when we watched it off my MacBook Pro at T2F one afternoon.
Labels: Education, Media, People, Personal, Politics, Religion