When I am frustrated, I get MAD ...
From my collection, I mean. Especially one of the old copies from way back when MAD was not a magazine (it became one in
1956,
my final year of school) but a good old 10¢ Comic Book. (See if you can find out what a US $ was worth in Pak Rupees then.)

MAD started at the time when that giant of delightful insanity, reponsible more than anyone else for the success of the comics industry - William M Gaines, Jr. - was in charge of Entertaining Comics, notorious for its crime and horror publications that angered many. It was believed (and especially by Gaines) that the Comics Code was aimed, underhandedly, at his publications.

Harvey Kurtzman and, later, Al Feldstein spearheaded MAD, which now boasts a 3-generation old continuing readership. Kurtzman, who - along with the underground artist, Robert Crumb - was one of my great idols, launched a lot of other very interesting and hilarious ventures after leaving MAD. These included the short-lived

Help!

magazine which, long before the creation of Monty Python, provided a platform for John Cleese and Terry Gilliam.

MAD had, by far, the most amazing cartoonists and illustraters of the time,among them Will Elder, Don Martin, Antonio Prohias, Dave Berg, Al Jafee, Sergio Aragonés, and Mort Drucker. If you are an illustrater or a comics fan, look them up! Primarily a drawing-based publication, MAD's writers, too, were brilliant and far ahead of anything that has existed in the USA since ... with the exception of National Lampoon & The Onion, both of which, I suspect, owe a lot to MAD.

The ultimate example of MAD writers' wit that I can give is that they managed to spoof Ogden Nash. No mean feat, as anyone who has read Nash will tell you. It's like trying to make a slapstick parody of Charlie Chaplin. I mean, what more can you do to the grandmasters of the genres?

Here - if you'll pardon the digression - are a few of examples for those who, unfortunately, missed out on Nash. His rhymes were not merely funny, they were exceedingly clever and contained side-splitting twists and modified spellings that were sure to make you roar. And his lines spoofed the very blank verse in which he wrote his poems in ways that I have rarely seen done elsewhere.



(Urdu readers: The two blank verse pieces -

Billiaañ

and

Kharraatay

-by
Shafiqur Rahman are just as good, as is the two-liner on the Camel by S M Jafri. More about them, in another post, some day. I will be quoting them on the Humourous Urdu Verse evening at T2F, soon.)




Haañ ... to Nash ki baat ho rahee thee

. From the stark simplicity of

A bit of talcum



to the twisted complexity of

What would you do if you were up a dark alley with Caesar Borgia




And he was coming torgia...
and back, again, to the simplicity of 7 words, spread over 4 lines, in a poem titled

Breaking the Ice





Candy


Is dandy
But liquor
Is quicker
Nash was the king of mad versification ... and MAD spoofed him, in a poem with a wonderfully Ogdenian title:

A Poem That Doesn't Do Anything But Rhyme ... One Time!



Abraham Lincoln really backed himself into a corner for if you begin a speech with "Four score and seven years ago, our fathers brought forth upon this continent a new nation: conceived in liberty, and dedicated to the proposition that all men are created equal...",
What do you do for a sequal?


**********

Ok ... Ok ... so what has all this got to do with the my frustration at being locked indoors - as must be a zillion others trying desperately to get to where they

need

to be (home, workplace, emergency ward)? For those abroad and oblivious to why we are locked in, Ms Benazir Bhutto, has arrived and is now taking the [projected] 18-hour ride from the Airport to Bilawal House (usually a 30-minute route) - a ride that is fraught with dangers for her and the city. Even the president has acknowledged the danger by advising caution - after his initial request to delay her arrival was turned down.

So, as I said, umpteen lines ago, I often fight my frustrations with reading old issues of MAD. Today I went through loads of them to relish my favourite Harvey Kurtzman covers and came across one that I just had to modify! The original classic can be seen at Wikipedia's Kurtzman entry.


Here's mine (you can see a larger version if you click on it):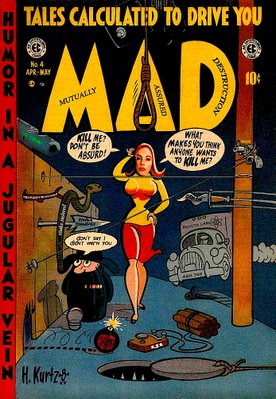 Labels: Art, Books, Literature, Media, News, Pakistan, People, Personal, Poetry, Politics, T2F, Urdu