A quiet beginning
The nation has never ushered in a New Year this quietly before. And never before has it, in such absolute solidarity, wished or prayed for its tragic history to be just that: history.
Even without all the controversy surrounding it, from the ever-changing official statements about the cause of death to the blatantly engineered Zardarization of PPP (which will probably end up destroying our largest political party over the coming year), the assassination of BB was an event that shocked Pakistan and forced all of its citizens to take stock. But it was not the only cause of the clouds of grief that hung over our land.
All year round, in 2007, we witnessed the deaths of countless people. Oblivious to guilt and innocence, uncaring of which views were wrong, which right, and which merely senseless, from every corner of our country the loud wails of mourning (in which
all
voices - regardless of belief systems, political ideologies, and ethnicity - sound the same) shattered the few remaining tiny dreams of the bulk of our population.
Pablo Neruda's "Come and see the blood in the streets ... ", once only a powerful line in a great poem (though a reality to Karachiites for years), transformed into difficult-to-ignore images on our TVs and the obsessed-with-gore vernacular press.
(Download the poem in PDF, if you do not have a copy already.)
With each successive tragedy, the questions that Faiz asked of this land of the pure, came back to haunt me: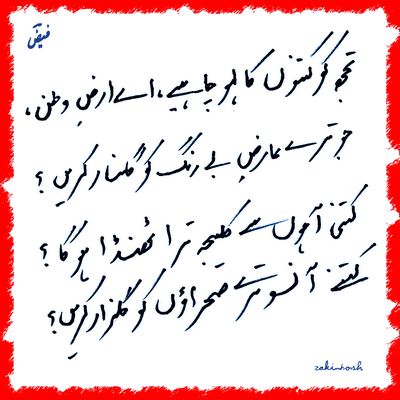 In case my handwriting proves unreadable:
Tüjh ko kitnoñ ka lahoo chaahiyay, aé arzé vatan,

Jo teray aarizé bay-rang ko gülnaar karayñ?
Kitnee aahoñ say kalayjah tera thandaa ho ga?
Kitnay aañsoo teray sahraaoñ ko gulzaar karayñ?
Here's a translation for those unfamiliar with Urdu:
How many people's blood d'you need, my country,

To bring a glow into your colourless cheeks?

How many sighs will cool your burning breast?

How many tears to make your deserts bloom?
Is there anything that we - as individuals - can do to make this year, and the years that follow, different? I believe that each of us, in our own varied capacities,
can and must!
The
Not-A-Greeting
Card I sent out to my friends at Eed-X'mas-NewYear has a quote from Gandhi who - amply qualified in this regard - offered the following advice:
Whatever you do will be insignificant, but it is very important that you do it.
Peace!
Labels: Activism, Events, Literature, Media, Pakistan, People, Personal, Poetry, Politics, Urdu