Never too late ... but ...
نہ جانا كہ دنیا سے جاتا ہے كوئ ۔۔۔ بڑی دیر كی مہرباں آتے آتے
Only a couple of days had passed since the heart-breaking death of Salman '@skdev' Mehmood - the very young founder of
The Thalassemia Foundation
- when the Sindh Assembly, in one of its rarer moments of sanity, unanimously passed a
resolution
seeking a law that makes tests for Thalassemia (and other diseases) "mandatory" for couples before marriage.
I had
blogged
about Salman on his passing away and visited his mother and two sisters a couple of days later. With Salman's death, I learnt, they have lost the second of the two brothers (the elder one died a few years earlier, at only 17). Their father, too, died in an accident at work just two years ago.
A lot of bloggers and developers who knew
@skdev
well - or at least better than I did - have paid tributes to him on Twitter, Facebook, various websites, and on their blogs. His sister, Ayesha, who was closest to him in interests and age (tweeple know her as
@blessedAyesha
) has put together the links of some of the writings
here
. I went to many of those pages and was amazed to read how much this young man achieved and against what odds, how many friends and strangers he helped selflessly while fighting his own battles, how he learnt programming and development all on his own, how he had a rating of 9.9 out of 10 at RentACoder. Wow! What a role model!
And what a positive thinker!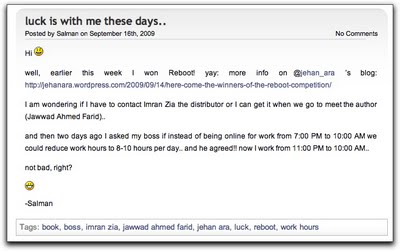 The resolution by the Sindh Assembly, which one hopes will become a law soon, would have more than pleased Salman, who wanted it so much, as this video shows:
Labels: Activism, Bloggers, Media, Medicine, News, Pakistan, People, Personal, Poetry