Scoop of the Century!
On a recent visit to the Karachi Freepress Club I noticed a pile of newspapers hidden in the corner. Enquiries revealed that
The Daily Noise
- the one with the motto, "All the news that fits, we print!" - had brought out an edition on the morning after the President's address to the
conster
Nation ... but it got banned and could not be distributed. Reporters sneaked a few copies for their
posteriors
posterity. I have photographed one since KFC would not allow me to take one away (Chicken, you think?).
Here, then, dear readers, a Collector's Edition - typos and all - just for you! (Tell 'em you read it here, first!)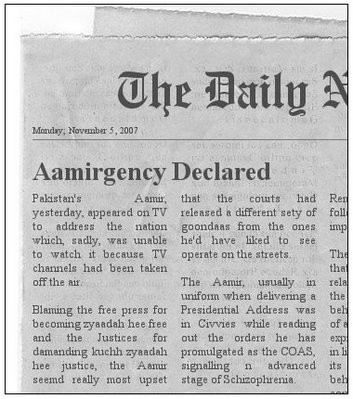 Labels: Activism, Bloggers, Events, Literature, Media, News, Pakistan, People, Personal, Politics, Rant