What the hell is wrong with our people?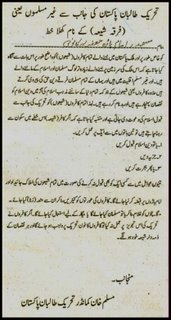 The Gojra killings, in which the Christian minority has been targeted, are not an isolated incident. The fascistic attitude of several religious groups has become a scar on the face of Pakistan and, if not checked, will disfigure it beyond recognition.
The Taliban may have suffered defeats at the hands of the Army in the recent skirmishes and battles, but the obnoxious ideas that have been planted in a large number of minds by a range of religious fanatics (and it's rare to see the face on TV of a Mulla who isn't) have to be actively countered. Any religion or 'ism' that becomes dogmatic, is bound to become intolerant and fascistic.
I am still reeling from shock after reading the attached 'notice'.
Labels: Activism, Bloggers, Education, Media, News, Pakistan, People, Personal, Poetry, Politics, Rant, Religion, Urdu