Friday, May 30, 2008
Checking out who's 'blocked' you? Don't!

Click on the above image to enlarge it.
Labels: Apple, Bloggers, Technology
Tuesday, May 20, 2008
Yak Jaan Do Qaalib?
Occasionally - though not too frequently - I ignore the fact that my name has been mis-spelt on invitations (even though, as in this case, the hosts have an almost quarter century long association with me and should know my correct name by now). So
that
is not my gripe with this card. It is with the confusion that it creates.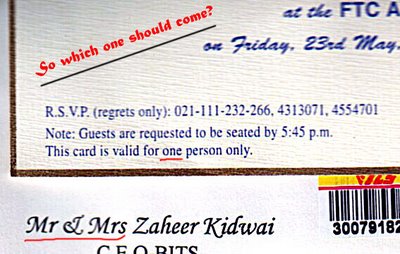 Friday, May 16, 2008
Operation Cleanup Unearths Treasures ;-)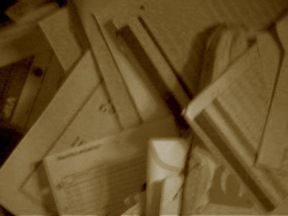 Found a notebook among the junk which is being given to the
kabaa∂iaa.
It contained some pieces from my days at Government College (Lahore). They have now been rescued and hidden in a special new junk collection place in the house. (I hope Nuzhat is not reading this post!)
This is what I discovered of my
bachpan kee ghalat-kaariyaañ
:
English
: 3 Limericks (one unrepeatable at any cost); several angst-ridden entries; 12 pages of abandoned attempts to write short stories which had started developing into either corny or horny writing; a diatribe against the college-election politics of Khalid S. Butt (when he stood aginst Kamal Azfar); a page of
Tom Swifties
... Anyone remember those?
Art (er, not!)
: A drawing of a
tinda
... or was it a
shaljam
? (we were served one or the other far too frequently) followed by some words expressing the desire to give it back to the cook ... with gruesome details about
how
!
Urdu
: 2
Ghazals
, 1
Hazal
, 1
qit'ah
:
nah ham-khayaal haé koee, na ham-zübaañ koee,
ajab qabeelah haé, ham jis meñ aaj rahtay haeñ;
dimaagh aur kaheeñ haé, to dil kisee jaa haé,
takallüfan isay ham phir bhi ghar to kahtay haéñ


- the quadrangle (1957) -
and oodles of
(Price-less)
droodles (yet another popular activity at the time).
Tuesday, May 13, 2008
Looking Back / Looking Ahead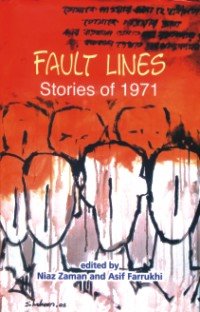 Prof. Niaz Zaman (of Dhaka) and the multifaceted Asif Farrukhi (of Karachi) have jointly edited
Fault Lines,
 a book of excellent short stories centred around 1971. Many of these stories were translated from Bengali, Hindi, and Urdu into English for this publication from Bangladesh, now available at T2F courtesy OUP.
Along with respected Urdu writer Intizar Husain - flown in from Lahore by T2F to attend the launch of the book in Pakistan 
and
a later evening to be devoted to
his
writings, alone -
both
Editors, whose own stories also appear in the collection, were present on the evening of the 11th May for an event that was the first of a
series of 
happenings
to celebrate T2F's birthday. 
Reading
Fault Lines
was not easy for me, partly because it brought back so much to mind. Actually, the very first time I opened it to a page at random, I was confronted by a few lines that made me put the book down, numbed.
"Baby, there's blood on your finger. Did you hurt yourself?"

"No ... I did not hurt myself", the little girl says.

"Okay, but let me wash it away."

"NO! I won't let you wash it! It's my mother's blood."
It took me a few days to muster enough courage to start reading it again. And those opening lines from Masood Ashar's
Versions of Truth
still haunt me.
While Bangladeshi writing is full of references, in works of fact 
and 
fiction, to those
horrible
days Pakistani prose has been very skimpy on the subject - with the occasional story sometimes being treated allegorically (e.g.,
Forklift 352
by Asad Mohammad Khan - included in this book and read out in the original Urdu by him at the launch). Admittedly, references in poetry from Faiz, Jalib, Faraz and others have been more direct.
The question that is often asked - and was brought up again that evening - is how/why did people in 'West' Pakistan "let it happen" and "not raise a voice". The stock answer has been "We did not know..." (an answer that was also partly
supported
by Shuja Nawaz during my interview of him about his intriguing book, more about which later in this post). So, Muneeza Shamsie's statement "We
knew
 - and
said
so to others.
B
ut nobody wanted to hear
..." came as a twist that led to numerous discussions within smaller groups after the event. (One of many interesting discussions on 1971 by today's youth has been also triggered through Jamash's
coverage
of the launch.)
There were, as was to be expected, conflicting views. While most of the audience generally felt that the Army had been brutal, there were still a few -
including
a conscientious objector from the armed forces who had refused to fight and returned to 'West' Pakistan - who believed that events
before
the 'army action' (what a mild euphemism for a bloody genocide!) had reached a pinnacle with the merciless killings of Biharis (someone suggesting a figure of ten thousand in a single incident). It was
this,
 they held, that had resulted in the violent (though regrettable) reaction of the Army. Khalid Ahmad, of stage and TV fame, was not willing to buy this and countered with an argument:
If the lives of Biharis were so important, why has Pakistan not ever considered accepting their repatriation?
The reasons, he felt, were entirely different and pre-planned. This view was partially reinforced when Prof. Niaz - a Punjabi who lives in Dhaka with her Bengali husband and, thus, with access to the thinking of both sides - said that contacts in the army had told her, well before that tragic March, that war was on the cards and preparation were in full swing.
•
Will the truth ever be known? The question falsely assumes that there is one single truth. There are,
always
, several truths - and glimpses of them are found in books safely labeled as Fiction. Truths are rarely, if ever, found in History, which, as Will Durant (and who can be considered more qualified to make a statement on the subject?) says, is 9/10th conjecture and 1/10th bias.
•
Having very close contacts in the army is one of the advantages that Shuja Nawaz holds over many others. His easy access to the military top brass adds dimensions to his research generally not found in other analyses.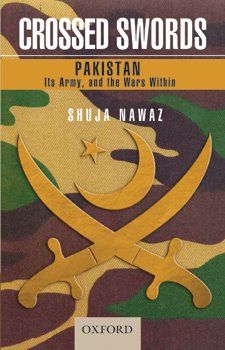 A seasoned journalist and member of several Think Tanks in the USA, where he lives, Shuja Nawaz has recently authored 
Crossed Swords — Pakistan, its Army and the Wars Within
, a book that is making waves everywhere even before the launch. Internationally, leading publications are showing exceptional interest in talking to him and in reprinting extracts from the book. A big launch is scheduled in Delhi soon. In Pakistan, the media is battling for time with him to conduct one-to-one interviews during the 2 days he is in Karachi.
OUP is holding a large launch on the 15th - which is also T2F's birthday and where we hope you'll join us on one or more of the sessions scheduled - but, for a more intimate (albeit brief) conversation with Shuja, you can come to T2F on the 16th. If you buy a copy of the book at T2F you will also get a free Audio CD of an interview I conducted with him over Skype.
I am not usually interested in reading books about the Army but, I admit, I couldn't put this one down. The breadth of its scope is matched by its depth - a rare occurrence, indeed. To younger readers I would certainly recommend it strongly since it spans the entire history of the country and is filled with 'inner' anecdotes. You can hear two clips from the interview here: One deals with the
MQM and General Asif Nawaz
(Shuja's brother, whose controversial death -
or was it murder?
- is also dealt with in the book). The other shows
his current state of optimism
.
Excerpts from my interview on other topics, including Kargil, can be heard on the
OUP website
. Such additions make the book much more interesting than the drab text books that turn Pakistan Studies into an almost detestable subject for many.
On a related note, Shuja Nawaz has been following the dynamic blogging community in Pakistan and has expressed a desire to meet some of its members during his visit. So, fellow Karachi bloggers, do come!
16th / 7 PM.
Be on time ... he only has an hour in his very hectic schedule.
Labels: Bloggers, Books, Education, Literature, Media, Pakistan, People, Politics, Reviews, T2F
Thursday, May 08, 2008