All Hail the new PM!
After hearing his speech I, for one, came away not feeling quite as rotten or angry as I have in the past several years when General Disorder prevailed. We
can
be cynical about whether all the promises for the first hundred days
will
be delivered and, judging by what we have faced so far in our history, who'd blame us. But let's give these guys a chance (not that we have the option of not doing so).
Many of the promises were simple and are to be operable very soon, and we'll be able to see them unfold. None of them are large enough to turn the course of history ... but stuff of
that
level needs a roadmap of more than a hundred days, you'll agree.
To me, the small, seemingly unimportant bits, such as the doing away of the special counters at the airport for Parliamentarians, was worth the speech. I had never seen a similar privilege being accorded worldwide. Perhaps someone had, earlier, seen special counters for the disabled and, concluding that most of our parliamentarians
are
mentally disabled, suggested the idea to CAA/PIA. (Until a more logical explanation comes along, I'll continue to believe this).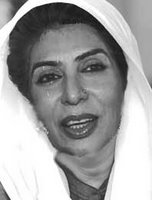 There was one hilarious moment - though I heard no one, not even the opposition, giggle - when the PM addressed the Speaker as "Madam Prime Minister". I wonder if he, too, has been swept off by what many people are constantly saying ... that the Speaker bears a resemblance of sorts to the late lamented Bibi.
While everyone eagerly awaits the removal of the Big Brass from what are essentially civilian posts, the buzz on the street - once again based on experiences of the past - is that the posts will be filled with relatives and friends.
Don't let us down, Mr. Prime Minister!